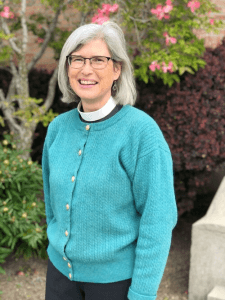 Rachel (or Pastor Rachel, if you desire a more formal title), is in the office Sunday, Monday, Wednesday and Thursday.  She will regularly work remotely on Tuesday.
Rachel was born in the U.K. to a priest father and musician/teacher mother. After receiving a BA in Psychology from Scripps College and an MBA from National University, Rachel worked doing market research in the medical device market and provided community education and administration in the not-for-profit arena. Rachel attended Virginia Theological Seminary, graduating in 1997, then moved to the Pacific Northwest. With specialized training in Interim Ministry, Rachel has served a variety of parishes in the Diocese of Olympia. Currently, Rachel is finishing up as Interim at St. Paul's in Bellingham.
Rachel's passions in ministry are: supporting the faith journey of people of all ages; teaching and preaching, liturgy and music; and peace and justice issues. Rachel enjoys reading, particularly murder mysteries, walking/hiking, and swimming (she is certified as a life guard). She is married to Gary Irvin, a CPA, and has two young adult children who will both soon be college graduates. Two rescue beagles and a newly-adopted mustang round out her household.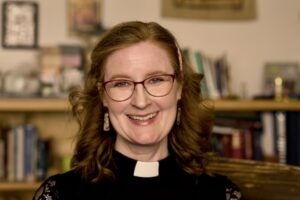 Danáe Ashley is our half-time Associate Rector. You will find her at church two Sundays a month and her office hours are by appointment on Tuesdays and Wednesdays each week.
A native of Spokane, Mother Danáe has ministered with parishes in North Carolina, New York, Minnesota, and at St. Stephen's, Seattle. She is also a Licensed Marriage and Family Therapist with a private practice at Soul Spa Seattle, LLC in Shoreline. Mo. Danae uses art, music, drama, poetry, and movement in counseling, spiritual direction, and creation of ritual. Her interfaith Clergy Care Circles for therapeutic group spiritual direction directly supports diverse clergy in varied circumstances across the country. She is an alumna of Young Clergy Women International and is a member of Thank God for Sex–promoting healing for those who have shame about their bodies, sexuality, and faith. Mo. Danae is also one of the contributors of the book Still a Mother: Journeys through Perinatal Bereavement. Additionally, she produced the play "Naming the Un-Named: Stories of Fertility Struggle" with playwright Amanda Aikman; has written for Working Preacher: Craft of Preaching; and has been featured on several podcasts regarding fertility struggle and faith. You can find a great article about her ministry from the School of Theology in Sewanee here.
Mo. Danae's favorite past times include hiking and traveling with her husband, musician and composer Henry Lebedinsky, spoiling their American Bully rescue dog Sophie Grace (follow her on IG: @sophiegracemeatprincess), reading, historical costuming, tending Alvie's Garden, dancing with wild abandon to Celtic music, and serious karaoke.
The Rev. Rebecca B. Kirkpatrick
Associate for Children, Youth, and Families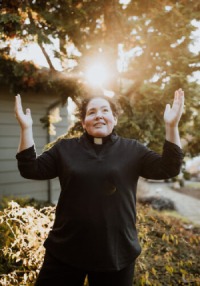 Rev. Rebecca's office hours are Sundays, Tuesdays, and Wednesdays. She is also available by appointment on Thursdays.
A native of Tacoma, Rebecca attended Annie Wright Schools followed by Mount Holyoke College and Yale Divinity School. Subsequent to divinity school, she spent a year as the Program Coordinator in the Office of Chaplain at Columbia University and as the Program Associate in the Chaplain's Office at Yale University. Wanting to return to the PNW, she joined Saint Andrew's staff as the Director of Children, Youth, and Families and upon ordination became our Associate Rector. Having a passion for chaplaincy, she became the Episcopal Chaplain at both the Annie Wright Schools and the University of Washington. She then served as the Canon for Faith Formation: 35 and Under in The Episcopal Diocese of Olympia. After five years on the Bishop's staff and a year as the Priest-in-Charge at Saint Matthew-San Mateo Episcopal Church in Auburn. Rebecca served as rector of Saint Philip's Episcopal Church in Marysville prior to returning to our parish.
When not at church, you can find Rebecca and her wife, Cara, along with their son, William, adventuring as a family of three and whenever possible, out on the water.
206-523-7476 (leave a message on the St. Andrew's general voicemail)
Tim's office hours are by appointment Wednesdays (12pm-3pm) & Thursdays (2pm-6pm) each week.
Tim is a native Northwesterner and PK (preacher's kid), raised in Tacoma. He began playing for church services in junior high, and studied organ and piano at Pacific Lutheran University. An apprenticeship in organ building took him to New England, where he also continued his musical studies at New England Conservatory.
He and his wife, Cheryl (also an organist and church musician), spent 23 years in Portland, Oregon, before moving to the Puget Sound area. They have a son in graduate school studying … organ and church music.
When not playing the organ or piano, Tim can often be found walking in the mountains of Western Washington, bicycling, or working on his old house. He also has a small business doing tuning and maintenance on pipe organs.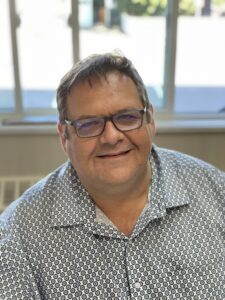 Kevin is our part-time bookkeeper. His office hours are Monday, Wednesday, & Friday afternoons after 3:30 pm, except on holidays. Making an appointment is best.